The Indian Council for Cultural Relations (ICCR) has decided to offer 39 scholarships to the Maldivian community.
The Indian Embassy in Maldives revealed that 15 scholarships under the General Scholarship Scheme are included along with four in the Commonwealth Scholarship Scheme and 20 scholarships under the Maldives Aid.
Said scholarships include degree programmes for various fields like arts, science, engineering, tourism, law and others in leading universities of major cities Delhi, Hyderabad and Bangalore among many more.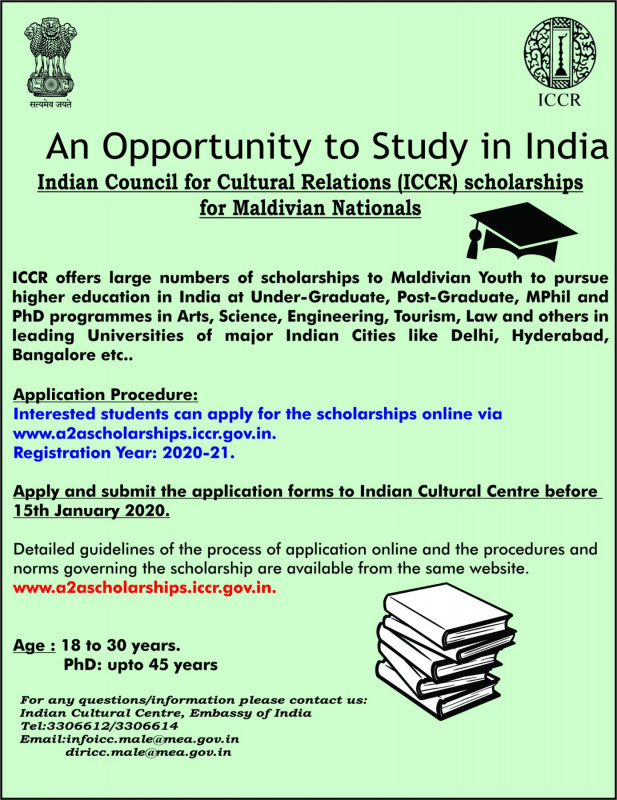 The youth community may pursue higher education in any field they wish in programmes for Under-Graduate, Post-Graduate, MPhil as well as PhD.
Registration for the all-expenses-paid scholarships is from 2020-2021.
While interested individuals may apply for the scholarships online through theirofficial website, applications may also be submitted to the Indian Cultural Center before 15 January 2020.
Guidelines set for the application process as well as other procedures are available through the samewebsite.
Those aged between 18 – 30 years may apply and those up to 45 years of age may apply for PhD programmes.